SamLotto Software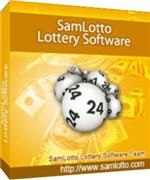 SamLotto is a fully featured lottery software that has turned around the gaming experiences of most players around the world. It provides the best filtering, analysis and predicting tool thus making gaming like never before. It has been a true winning lottery software since 2003.
SamLotto works with over 220 lotto lotteries from 62 countries. Being a universal software, it works with picks such as 4, 5, 6 or 7 with 0, 1, and 2 being the lucky bonus numbers. With SamLotto, it is very easy to generate up to basic filters and 18 advanced filters with one single click. The idea of random luck is a thing of the past. Therefore, a player's chance of winning increases. Additionally, SamLotto is pretty simple to learn. A player can eliminate up to 90% of bad tickets. It is a risk-free software. Besides, any data that is exchanged during ordering is fully secured. It is the best lotto software for anyone trying to learn lottery.

Supported Operating Systems: Microsoft Windows XP/Vista/Windows 7/Windows 8/Wdindows 10
If you are ready to learn how to win the lottery with SamLotto software then you are in the right choice. SamLotto lottery software has been tested and tweaked to make sure you are putting the maximum lottery odds in your favor. Trying to predict the lottery for the average person can be a difficult task, and SamLotto program can help you save a lot of money and time, so that you can avoid detours.

Detailed Features of the SamLotto
Pick numbers and generate number combinations
Support manual selection of numbers.
Support 1-click quick select hot/cold/past x drawings numbers.
Support adding bonus number (3 modes: all mode, in turn mode and random mode).
Support specifying the number of all positions and then generating lines.
Support random generation of lines.
Drawings data processing
Unlimited lottery game creating.
Support building in Internet result updating and manually entering results.
Updating of lottery results with just a click on the toolbars.
Support export/import/add/delete.
Copy data to the clipboard.
Filtering with any combination of digits
The base filters support 1-click generate default conditions (According to the last 1/2/3/5/10/20/30/50 drawings).
All filters support "Filter Assistant"; this function will open the filter chart to help you set the current filter conditions.
Support set "filtering contain positions", you can specify the position of the numbers involved in the filtering.
Supports base filters: Odd Count, Even Count, Hight Count, Low Count, Prime Count, Number Sum, Average Value, Unit Number Sum, Unit Number Different Number Count, Successiv, Successiv Groups, Odd Successiv, Even Successiv, Minimum Number, Maximum Number, First-Last Distance, Max Distance, Average Distance, Different Distance, AC, Same Last Drawn, Sum Value Even Odd, Unit Number Group Count, Decade Group Count, Different Decade Count, Same End Units with Last Drawn, High Units Count, Odd Units Count, Lowest 4 Units Count, Successive Paired Units Count, Pairs Count Odd and Even Units, InterChangeable Units Count, Count for 1 2 3 Units, Even Units Count, Pairs Count Even Units Only, Pairs Count for 1 2 3 Units, Successive End Units, Pairs Count Odd units Only, Units (0) Number Count, Units (1) Number Count, Units (2) Number Count, Units (3) Number Count, Units (4) Number Count, Units (5) Number Count, Units (6) Number Count, Units (7) Number Count, Units (8) Number Count, Units (9) Number Count, Root Sum , First and Second Unit Sum ect..
Supports advanced filters: Adv Number Count, Adv Number Sum, Successive Number Filter, Range Filter, Number Groups Filter, Must Contain the Numbers, Locked Numbers, Divided by 3, Divided by 4, Divided by 5, Divided by 6, Divided by 7, Divided by 8, Divided by 9, Divided by 10, Multiple Filter, Delete History Drawings, Hot-Cold Filter etc..
Predict lottery numbers
According to the drawings trend chart, predict the next drawing winning numbers manually.
Verify that all prediction formula, choose the best one.
Predict the next drawing winning numbers.
Include lotteries
United States: Power Ball, Mega Millions, Lotto South, Hot Lotto, Win for Life, Lotto America, Natural State Jackpot, Luckly for Life, Decades of Dollars, Arizona Fantasy 5, Arizona The Pick, Arizona Weekly Winnings, California SuperLotto Plus, California Fantasy 5, Colorado Lotto, Colorado Cash 5, Connecticut Classic Lotto, Connecticut Cash 5, Delaware Cash 5, Delaware Multi-Win Lotto, Florida Lotto, Florida Fantasy 5, Florida Mega Money, Georgia Fantasy 5, Idaho Weekly Grand, Illinois Lotto, Illinois Little Lotto, Indiana Mix and Match, Indiana Hoosier Lotto, Indiana Lucky 5, Iowa Cash Game, Super Kansas Cash, Kentucky Cash Ball, Louisiana Lotto, Louisiana Easy 5, TriState Megabucks Plus, Maryland Bonus Match 5, Maryland Multi Match, Massachusetts Megabucks, Massachusetts Mash Cash, Michigan Fantasy 5, Michigan Classic Lotto 47, Minnesota Gopher 5, Minnesota Hot Lotto, Minnesota Northstar Cash, Missouri Lotto, Missouri Show Me Cash, Montana Cash, Nebraska Pick 5, New Jersey Pick Six Lotto, New Jersey Cash 5, New Mexico Road Runner Cash, New York Lotto, New York Sweet Million, New York Take 5, North Carolina Cash, Ohio Rolling Cash 5, Ohio Classic Lotto, Oklahoma Cash 5, Oregon 648 Megabucks, Pennsylvania Match 6 Lotto, Pennsylvania Cash 5, Pennsylvania Treasure Hunt, Puerto Rico Loteria Electronica, Rhode Island Wild Money, South Carolina Palmetto Cash 5, South Dakota Cash, Tennessee Cash, Lotto Texas, Texas Cash Five, Texas Two Step, Tennessee Cash, Virginia Cash 5, Virginia Midday Cash 5, Washington Lotto, Washington Hit 5, Washington Match 4, West Wirginia Cash 25, Wisconsin Badger 5, Wisconsin Megabucks, Wisconsin Super Cash, Illinois Midday Lucky Day Lotto, Tri-State Gimme 5-TS539, Wisconsin Super Cash.
Canada & Australia: Tatts Lotto, Monday and Wednesday Lotto, NSW Lotto 1, Australia Power Ball, Oz Lotto, Wendnesday Gold Lotto, SA Lotto, The Pools, Canadian 649, Canadian Lotto Max, Atlantic 649, Atlantic Bucko, BC49, Ontario 49, Quebec 49, Ontario Lottario, Ontario PayDay, Western 649, Western PayDay.
Russia: Russia 5 36, Russia 6 45, Russia 7 49, Russia 6 49.
Hong Kong & Taiwan: Hong Kong Mark Six,: Taiwan Lotto, Taiwan 539, Taiwan Big Lotto.
Europe: Euro Millions, British National Lottery, Thunder Ball, Germany Lotto 649, Spain 649, Belgium Lotto, Irsh Lotto, Irsh Lotto Plus 1, Irsh Lotto Plus 2, Irsh Monday Million, Greek Joker, Greek Lotto, Turkish Sayisal Lotto, Turkish Sans Topu, Turkish Super Lotto.
Mexico: Mexico Melate Retro, Mexico Melate Lotto, Mexico Chispazo, Mexico Revancha Lotto.
New Zealand: New Zealand Lotto.
Brazil: Brazil Mega Sena, Brazil Quina.
Singapore: Singapore Toto.
Malaysia: Malaysia Superme Toto, Malaysia Power Toto, Malaysia Mega Toto 652.
India:Tuesday Thunder Ball, Friday JALDI 5 lotto, Thursday Super Lotto, Saturday Super Lotto.
Other lotteries: Anguilla Caribbean SuperLotto, Antigua Caribbean SuperLotto, Argentina Brinco, Argentina Loto 5, Austria Euro Millions, Austria Lotto, Barbados Caribbean Super Lotto, British Columbia 49, Chile Loto, Chile Polla 4, Columbia Ultimo Sorteo, Costa Rica Pega 6, Croatia Lotto 6-45, Croatia Lotto 7-39, Czech Republic Euromiliony, Denmark Euro Jackpot, Denmark Lotto, Denmark Viking Lotto, Dominican Republic Caribbean SuperLotto, Estonia Euro Jackpot, Estonia Viking Lotto, Finland Euro Jackpot, Finland Viking Lotto, Germany Euro Jackpot, Hungary Hatoslotto, Hungary Otoslotto, Iceland Viking Lotto, India Jaldi 5 Lotto, India Sikkim 6-49 Saturday, India Sikkim 6-49 Thursday, India Super Lotto, India Thunderball, Israel New Lotto, Jamaica Caribbean SuperLotto, Jamaica Lotto 6-37, Jamaica Lucky 5, Japan Loto 6, Japan Loto 7, Japan Mini Loto, Korea Lotto 6-45, Latvia Lotto 5-35, Latvia Viking Lotto, Lebanon Lotto, Luxembourg Euro Millions, Mauritius Lotto, Netherlands Dutch Lotto, Netherlands Euro Jackpot, Norway Lotto, Norway Viking Lotto, Peru Gana Diario, Philippines Grand Lotto 6-55, Philippines Lotto 6-42, Philippines MegaLotto 6-45, Philippines SuperLotto 6-49, Poland Lotto, Poland Mini Lotto, Portugal Euro Millions, Slovenia Euro Jackpot, Spain El Gordo de la Primitiva, St. Kitts and Nevis Caribbean SuperLotto, St. Maarten Caribbean SuperLotto, Sweden Lotto 1, Sweden Lotto 2, Sweden Viking Lotto, Switzerland Euro Millions, Switzerland Swiss Lotto, Trinidad and Tobago Lotto Plus, Virgin Islands Powerball, Uruguay Kini, Uruguay Revancha, Virgin Islands Caribbean SuperLotto.