Why Use Lottery Software to Play Louisiana Lotto
Tell you why to use the SamLotto lottery software to play Louisiana (LA) Lotto, step by step! Don't give up your chance to win 10x, 100x more than others!
How do you generate Louisiana (LA) Lotto complete combinations and wheeling combinations, analyze past drawings results, and use filters to eliminate low chance combinations?

Calculations with calculators and Excel sheets are impractical and will take a lot of time! you need full-featured professional lottery tools.
Today I'll show you how to use SamLotto lottery software to win the Louisiana (LA) Lotto jackpot!
Participating States: Louisiana (LA).
Draw Method: Computer Random Number Generator.
Drawing Days and Time: Wed, Sat, 9:59 PM Central Time (GMT-6:00).
Prize Odds: Jackpot odds of winning 1 in 5,245,786. OVERALL ODDS 1 IN 34.4.
Game Type: 6/42, 6 numbers between 1 and 42.
Use Lottery Software to Update Louisiana Lotto Drawings Results to the Latest
SamLotto includes Louisiana Lotto lottery drawings results from April 22, 1998, with over 2300 entries.

We will upload the results of the Louisiana Lotto drawing every morning, you can download it the next morning. Alternatively, you can manually enter the latest draw results.
Picking Louisiana Lotto Lottery Numbers
In the Pick panel, by clicking on the "Pick" button, you can quickly generate a pool of numbers from the results of the previous draws. We offer 3 modes of picking numbers: hot, cold, and previous.
Generate Louisiana Lotto Complete Combinations and Wheeling Combinations
We offer 2 modes of generating Louisiana Lotto combinations, generate all possible(Full) combinations, and generating wheeling combinations. Using wheeling you can quickly compress combinations and win many small prizes, but the odds of winning the jackpot are very low.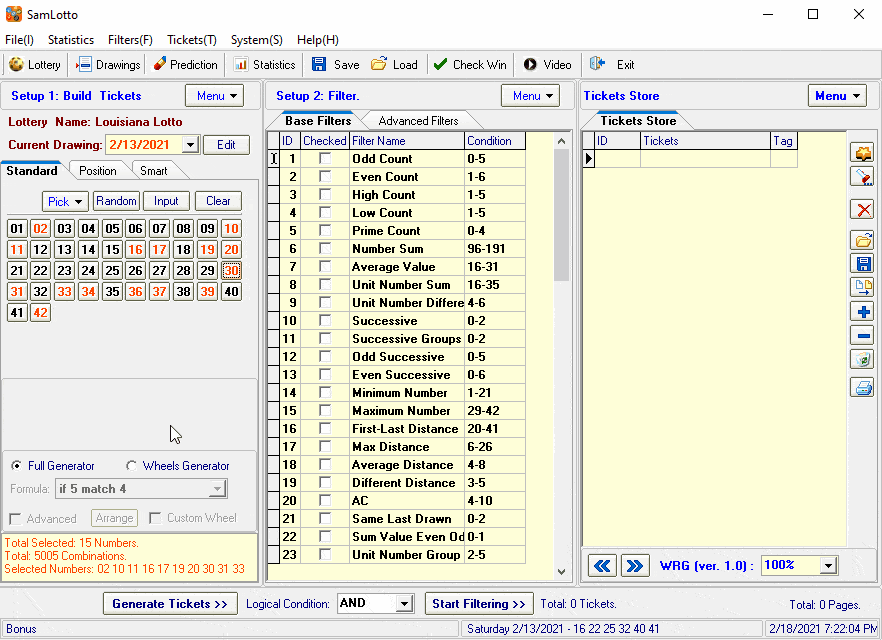 Analysis Louisiana Lotto Previous Drawings Results
SamLotto is also a Louisiana Lotto Lotto analysis software that supports over 80 analysis methods and graphs. By analyzing these charts, filter parameters can be more correctly predicted.
Filtered Out Louisiana Lotto Bad Combinations with Filters
If you would like to filter the Louisiana Lotto lottery ticket combinations. SamLotto is also a lottery filtering software, filtering is a very effective way of eliminating the Louisiana Lotto lottery bad lottery tickets by counting the previous results and filtering out combinations with very low odds of winning.
We used the filter to filter out the Louisiana Lotto lottery bad combinations example as below.

We selected 15 numbers, generating a total of 5005 combinations. Randomly selected 22 filter conditions. Using filtering we eliminated a total of 4466 combinations.
Download SamLotto Lottery Software to Play Louisiana Lotto
If you are interested SamLotto lottery software to play the Louisiana Lotto lottery, you can download and use the free edition, you can use most of the features and the drawing statistics analysis module is completely free!
Summary
If you play Louisiana Lotto don't give up your chance to win 10x, 100x more than others!

Stop being prejudiced against lottery software, it's just a tool to improve our efficiency. Programs do not guarantee that you will win the lottery. But it can increase your chances of winning the lottery. You have a big advantage over other lottery players, and that's enough!